Land of light and ice
In courtesy of Birdwatch Magazine and Steve Young
A pale-morph Arctic Skua drifted past, closely pursued by a Black- tailed Godwit, while a Red- necked Phalarope gave half- hearted assistance in the chase. A pair of Whooper Swans swam by on the river and Common Snipe performed their drumming display overhead.
This was certainly a far cry from summer on my local patch. I was in north-east Iceland for a three-day trip, and the Red-necked Phalarope that had just flown across returned to the river and floated along in the glorious late evening sunlight a few metres from my lens. My visit to a photographer's paradise had begun.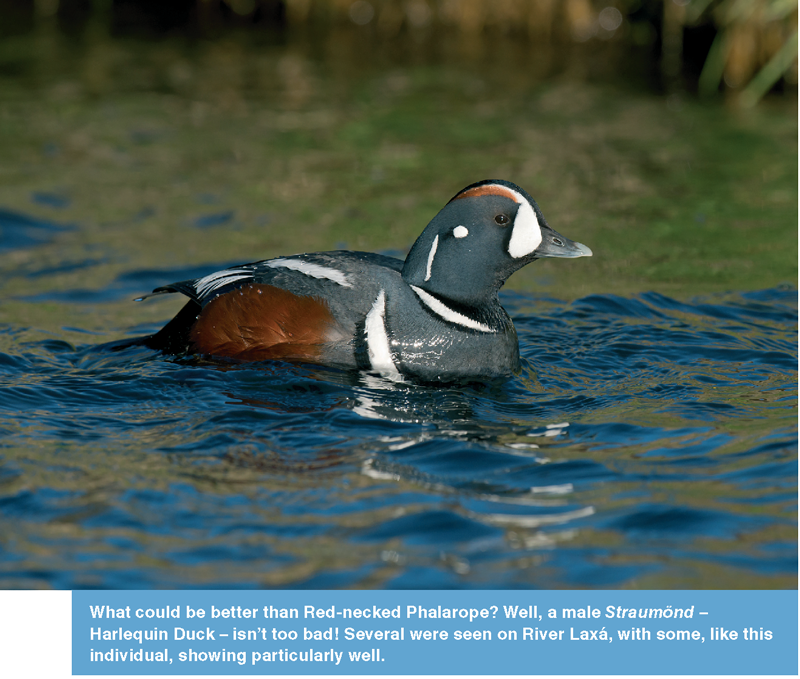 I was staying at the lovely Hótel Rauðaskriða, set on the slopes of a Ptarmigan-filled mountainside; I could even hear the birds calling as I fell asleep. I wasn't in bed for long, however, as I was awoken by my alarm at 5 am. I was too excited to sleep much anyway, and after breakfast and listening to singing Redwings (a very common breeder here), I was out with my guide Gaukur Hjartarson to start what was to become one of my best- ever days of photography.
The River Laxá was our first destination and I was soon clambering along the banks looking for Harlequin Duck, which obliged within five minutes as a stunning drake flew past – wow! I'd been too slow to lift my lens, but I was a bit quicker when another male swam around the corner and clambered out onto the opposite side of the river. What a stunningly beautiful-looking duck! A group of five Red-necked Phalaropes flew in calling and began feeding and displaying on the river, before I turned my attention back to the Harlequins.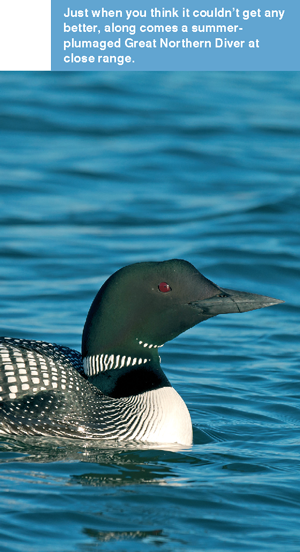 We met up with Gunnar Jóhannesson from Arctic Nature Experience, our driver for the day, and set off on a tour of Lake Mývatn (pronounced Me-vat). Blessed with beautiful sunny weather, we took a long drive with many stops at various sites known to my guides, allowing me to indulge fully in my photography.
I thought the Red-necked Phalaropes I'd photographed the previous evening were good, but they were nothing compared to the ones around the shoreline of the lake. The birds were everywhere. They were up close and almost begging to be photographed, and no matter how many times I did photograph them, I'd end up taking a few more shots as another one came past catching insects. I nearly had to be dragged away by Gunnar with the promise of other species, but in all honesty I could easily have spent a full day with the 'phals' – there is just something about them.
But we had to leave, and after a coffee break and tour of Sigurgeir's Bird Museum on the shores of the lake, we carried on. Our next stop allowed me to photograph Barrow's Goldeneye, Long-tailed Duck and Greater Scaup, although I did notice that my guides stayed a fair distance away from where I was walking, as I was surrounded by hundreds of flies; I'm sure I saw them smiling at the black clouds around my head. But the flies didn't bite and, after spitting out a few mouthfuls, I carried on taking photos.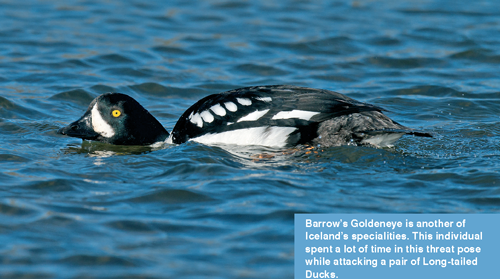 About tern 
An Arctic Tern colony was the next stop, complete with breeding-plumaged Slavonian Grebes nearby. This was followed by even more 'Slavs' that posed for photographs at another site, plus Common Scoter and Long-tailed Duck in the same area.
Just as I was thinking the day couldn't get any better we turned a corner into a
bay and a Great Northern Diver was feeding just offshore. It remained unconcerned as I walked slowly towards it, and the bird drifted on the water as I took lots of shots.
The Lake Mývatn tour was complete, but the day wasn't over and it was back to River Laxá for the late evening. With almost 24 hours of daylight in Iceland at this time of year, there was still plenty of time for more photos. A pair of Long- tailed Ducks showed extremely well, as did a male Barrow's Goldeneye, whose one aim in life seemed to be to chase the Long-tailed Ducks away. But the highlight of the evening's photo session was a pair of Harlequin Ducks that showed at close range in lovely light – they were just about perfect and I used my last memory card on them.
In a single day I had used 64 GB of memory, and it took me quite a while to download the files then back them up to another hard drive, and also charge the camera batteries ready for the next day. I collapsed into bed – what a day!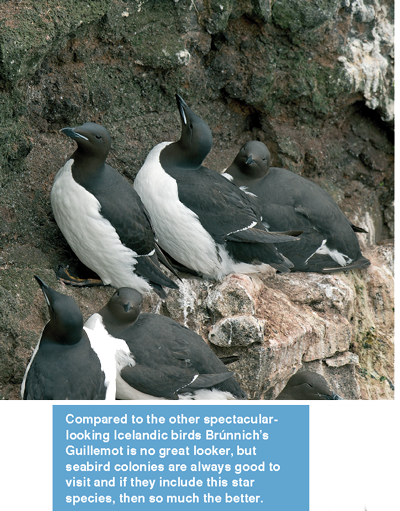 The next day dawned dull and grey, but you can't control the weather and just have to make the best of it. After breakfast I photographed Redwing and European Golden Plover from my bedroom window and then met up with Icelandic bird photographer Jóhann Óli Hilmarsson. We travelled to Húsavik to catch a fast boat to Flatey Island, home to Puffins and yet more Red-necked Phalaropes that literally walked along with me near the quay. Superb views of Humpback Whale were had on this trip, as well as Black Guillemot, Northern Fulmar and Kittiwake on the crossing.
The evening was spent at a local Common Eider colony, which is protected by the farmer and then harvested for the eider down when the nests are abandoned. A lovely dinner at the farmhouse followed.
My final day was spent at a seabird colony some five hours' drive from the hotel, and with much of the journey on rough tracks it was always going to be slow. But the travelling was broken up by various stops for species such as Red- throated Diver, breeding Whooper Swan (this is where 'our' wintering birds go in the summer) and a King Eider on the sea with Common Eiders; it was too distant for good photos, but still great to see.
The seabird colony was spectacular and well worth the journey, with Northern Gannet, Kittiwake, Northern Fulmar, Puffin, Razorbill and Common Guillemot, plus the star species, Brünnich's Guillemot, one of Iceland's target birds for visitors. All were successfully photographed before it was time to head back.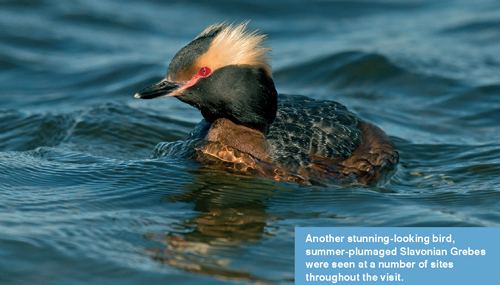 Sadly my trip was almost over. I was being driven back to the hotel on the final leg of the seabird journey, when I noticed a shape on a rock. Shouting "Stop!" I reached for my lens, and as the bird came into focus, the shape became a Gyr Falcon. The shutter was pressed a few times before it took flight and moved powerfully away. What an end to a fantastic trip! It couldn't have been any better, unless it had been two weeks longer.
So, if you fancy photographing Straumönd, Óðinshani and Húsönd – that's Harlequin Duck, Red-necked Phalarope and Barrow's Goldeneye to you and me – why not join me on a photo tour of Iceland in spring 2013?