Day 1
Keflavik – Borgarnes
Tour starts at Keflavík International Airport where arriving birders are sometimes welcomed by Snow Buntings singing from the terminal building. A short drive to Sandgerði should allow us to get out first glimpse of Iceland's common roadside birds, such as Whimbrel, Common Redshank and European Golden Plover doing its slow butterfly wing display flight. We then continue on through the mossy lava fields of the Reykjanes peninsula, by-passing the capital, until we reach our destination for the night, Borgarnes. In the evening we can make a short trip inland to look for the very local Eurasian Woodcock perform its display flight. On the way we will pass extensive mudflats which will hold waders and the locally rare Common Shelduck. These birds will be keeping a careful eye out for the White-tailed Eagle, which breeds in the area, and with some patient searching we may see this majestic raptor. Night at Borgarnes. 130km.

Day 2

Borgarnes – Grundarfjörður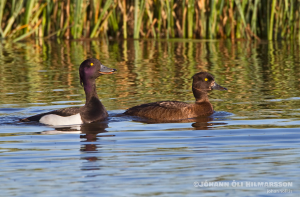 We head out on to the spectacular Snæfellsnes peninsula, with its rich diversity of habitats. The lakes on the flat plains by the sea hold very dense numbers of breeding Red-throated Diver and Arctic Skua, while on the rivers tumbling down from the mountains we might encounter our first Harlequin Ducks. The roadside lakes along the southern edge of the peninsula hold a typical mosaic of wetland species including Great Northern Diver and Horned Grebe, and scarcer ducks such as Northern Shoveler. At the end of the peninsula is the Snæfellsnes National Park, crowned by the glacier filled volcano Snæfellsjökull. The lava fields here are home to Rock Ptarmigan and leucorhoa race Northern Wheatear. The attractive basalt cliffs at the end of the peninsula hold colonies of all five breeding Icelandic auks, including Brünnich's Guillemot, plus large numbers of Black-legged Kittiwake, while Arctic Tern is abundant along the coast.  Killer Whales are frequently seen along this section of the coast. The northern side of the peninsula is quite different in character to the southern shore and has huge numbers of breeding Glaucous Gull and will give gull enthusiasts the chance to study large gulls in every possible plumage! The village of Rif is the site of a vast Arctic Tern colony, which can make stepping out of the vehicle in some places a risky business as the terns dive bomb unwary intruders! Common Eider is abundant along the coast and careful searching may reveal a lingering King Eider. The harbour in the village of Grundarfjörður is usually a reliable place to find tame Purple Sandpipers. Night at Grundarfjörður. 200km.
Day 3
Grundarfjörður – Breiðafjörður Bay – Gauksmýri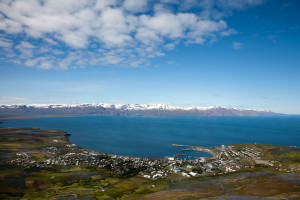 We start by looking at coastal sites near Grundarfjörður, perhaps finding one of the local Harlequins, before driving to Stykkishólmur for a mid-morning excursion by ship out into Breiðafjörður Bay, with its countless islands and skerries. The bay holds vast numbers of breeding Atlantic Puffin, Black-legged Kittiwake, as well as a good percentage of Iceland's White-tailed Eagle population and with some luck we should get good views of Iceland's largest raptor. Breeding European Shag and Black Guillemot are also expected on this two hour trip out on the water. After returning to Stykkishólmur we head east along the Snæfellsnes peninsula, where we are certain to encounter moulting flocks of Whooper Swan, and over to the north coast, where there will be opportunities to look for seals as well as other birds. Night at Gauksmýri. 230 km.
Day 4
Gauksmýri – Hótel Rauðaskriða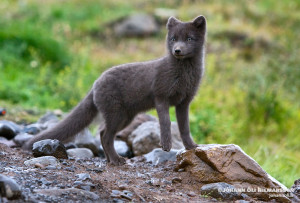 Most of the morning will be spent travelling to the north-east of Iceland but we will start the day at the river mouth in Blönduós, often a haunt of Iceland Gulls in summer. On one of the valley bottoms we will have a look at family parties of Pink-footed Geese and Harlequin Ducks. Wooded areas in the area hold good numbers of Common Redpoll, Eurasian Wren and the abundant Redwing. At Akureyri we will see our first Common Gulls by the road, and there will be photo stop at the impressive roadside waterfall Goðafoss. In the late afternoon we will visit Húsavík, which has become one of the world's great whalewatching centres in recent years, with White-beaked Dolphin, Minke Whale, Humpback Whale and even Blue Whale being seen regularly. A trip out on to the bay, with its superb snow-covered mountain backdrop is bound to be a trip highlight for many.  Night at country hotel at Aðaldalur, near Húsavík. 270 km.
Day 5
Rauðaskriða – Raufarhöfn
Drive north on to the Tjörnes peninsula, where Rock Ptarmigan is frequently seen by the road. The wetlands around Víkingavatn hold a great diversity of breeding birds, including good numbers of Horned Grebe. The glacial sand flats east of here are in the domain of the Great Skua and we should be able to enjoy close encounters with this impressive predator. This area abounds with breeding waders, with Whimbrel, Black-tailed Godwit and European Golden Plover all abundant. We then visit the stunning horse-shoe canyon of Ásbyrgi before spending the afternoon birding Iceland's far north-eastern peninsula, Melrakkaslétta. This wild and remote area has an Arctic feel to it and is a superb birding location in summer, with great numbers of Red-throated Diver, Snow Bunting and Purple Sandpiper and a very healthy population of Gyr Falcon. The beaches may still host some lingering Arctic shorebirds and rarities are regularly seen in this area. Night at Raufarhöfn, just south of the Arctic Circle. 200 km.
Day 6
Raufarhöfn – Langanes peninsula – Rauðaskriða
In the morning we will check out the mudflats at Höskuldarnes before heading south along the coast, where we check out the numerous lakes and coastal sites en route. Our main destination today is Langanes, the long finger of land at Iceland's north-east corner. The cliffs at Skoruvíkurbjarg hold excellent numbers of auks, including abundant Brünnich's Guillemot, while rock stacks just off shore are home to a very approachable colony of Northern Gannets, providing excellent photographic opportunities for this species. Night at Aðaldalur. 320 km.
Day 7
Rauðaskriða – Lake Mývatn – Rauðaskriða
Lake Mývatn (Midge Lake) is one of Europe's great birding destinations. The midges, actually harmless chironomids, are the mainstay of life at the bird rich lake, home to thousands of breeding wildfowl. Barrow's Goldeneye, at its only European breeding site, is common here. It shares the lake with other ducks such as Common Scoter, Gadwall, Eurasian Wigeon, Long-tailed Duck, Greater Scaup and Tufted Duck, while American vagrants such as Ring-necked Duck and American Wigeon are recorded regularly at this superb site. Harlequin Ducks are common on the river Laxá, which flows out of the lake, while Horned Grebes are confiding and highly photogenic on the lake itself. Great Northern Divers and Red-throated Divers provide the background noise, while arguably the main attraction at the lake, the Gyr Falcon, can occur anywhere in the area. The world's largest and most powerful falcon takes advantage of the great numbers of Rock Ptarmigan, wildfowl and waders and several pairs breed in the area. Its smaller cousin, the Merlin, also breeds in the area, and if we are lucky we might see Short-eared Owl hunting in the 24-hour daylight. With fascinating geology and geothermal sites around the lake, a day at Mývatn is an unforgettable experience. We will also  visit Europe's largest waterfall, the thundering Dettifoss if time allows.  Night at Aðaldalur. 140 km.
Day 8
Rauðaskriða – Skjálfandi Bay – Borgarnes
Morning boat trip from Húsavík to the island of Flatey in Skjálfandi Bay. Flatey is a small island which is home to more than 30 species of breeding bird, including abundant Arctic Tern, Atlantic Puffin and Red-necked Phalarope. On the way over we will also use the opportunity to look for whales. In the afternoon we drive south towards Reykjavík, stopping wherever birding opportunities arise. Night at Borgarnes. 380 km.
Day 9
Borgarnes – Thingvellir, Gullfoss Waterfall, Geysir – Borgarnes
In the morning we start by visiting the Þingvellir National Park, the site of the ancient Icelandic parliament where the divergent American and Eurasian tectonic plates are as plainly visible as in a geology textbook. The park has Harlequin Ducks, both divers, Eurasian Wren and breeding Greylag Goose to name a few. No visit to Iceland would be complete without visiting the world famous geothermal field at Geysir and the thundering waterfall, Gullfoss – the Golden Falls. Merlin sometimes breed in the canyon below the falls. In the afternoon we head for the south coast and visit BirdLife Iceland's bird reserve at Flói, where breeding Dunlin, Red-necked Phalarope, Arctic Skua and Red-throated Diver abound. Night at Reykjavík. 330 km.
Day 10
Reykjavík – Reykjanes peninsula – Keflavik
In the morning we head out to the Reykjanes peninsula and visit the area around Garður. Careful scanning off shore should reveal Northern Gannet, Manx Shearwater and perhaps European Storm-petrel. The lakes here are known migrant traps and we will check them carefully to see if we can find that last good species for the trip list. We then transfer to Keflavík International Airport for the flight home. 90 km.
Included
(min 5 pax, max 12 pax)
All transport on ground
Expert guide
Accommodation in a dbl room with private facilities.
Breakfast for days 2-10
Lunchpacks for days 2-9
Dinner for days 1-9
A bottle of water for each day
Three boat tours (Whale watching, Bird watching,)
For prices and further information contact Wildlife Iceland